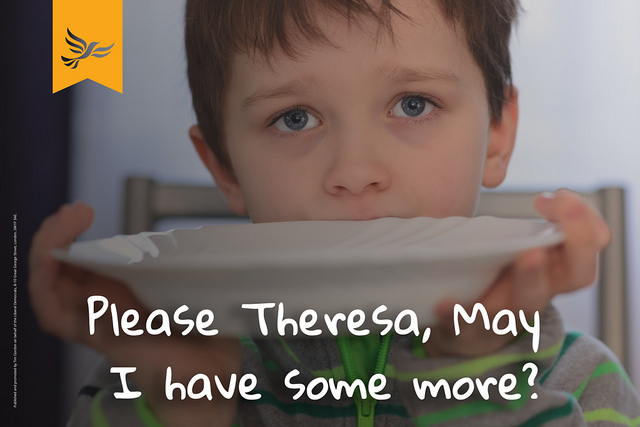 Nick Clegg has warned today (Saturday 27th May) that Theresa May's plans to scrap free school lunches could hit children's health by depriving hundreds of thousands of pupils of their 5-a-day.
It comes as the Liberal Democrats have unveiled a hard-hitting digital poster of a hungry child asking: "Please Theresa, May I have some more."
Unlike school lunches, there are no nutritional guidelines or minimum portions for breakfasts. This means while pupils currently get at least two to three of their five a day with free lunches, with free breakfasts they could potentially get none.
Current standards would allow school breakfasts to consist mainly of processed breakfast cereals, toast with sweetened spreads, and there would be no limit on the total amount of sugar children can consume.
Nick Clegg said:
"Theresa May's plans would hit children's health by depriving them of a free nutritional meal at school.
"This is particularly short-sighted when we are struggling with soaring levels of childhood obesity.
"The Liberal Democrats will protect free school lunches for infants and ensure all primary school children can get a healthy, free lunch a day.
"Conservative candidates must make clear whether they will vote to take away lunches from hard-pressed families or stand up to Theresa May for the sake of the education and good health of our children.
"Theresa May should take her inspiration from Jamie Oliver not Oliver Twist."